It has been a sad event for shin-chan fans everywhere.

http://www.bloomberg.com/apps/news?pid=20601101&sid=aO22LAYnIXqw

"


Sept. 21 (Bloomberg) -- A famous Japanese animation artist, best known for the cartoon series "Crayon Shin-chan," was found dead after going missing while walking in the mountains, the Yomiuri newspaper said today, citing local police.

Yoshito Usui, 51, went missing on Sept. 11 after telling his family he was planning to climb a mountain in Gunnma prefecture, north of Tokyo, the Yomiuri said in its report. Usui may have fallen from a cliff after being found with wounds to his chest, the Yomiuri report said.

The cartoonist became popular in the 1990s with Crayon Shin-chan, a comedy that features a five-year-old boy's life with his family and friends at a kindergarten.

The series has sold about 50 million comic books since 1990 and was made into an animation film in 1992, the newspaper said."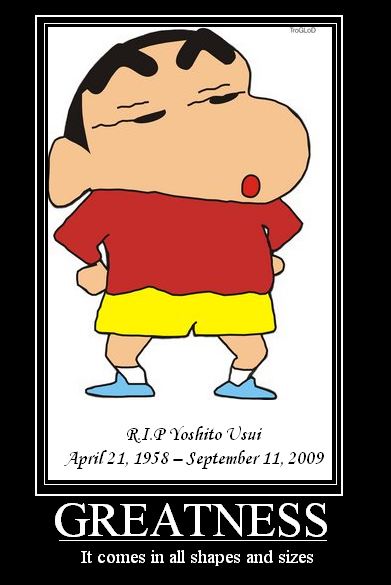 Poster made by me.